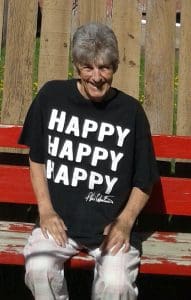 May 13, 2022 – Calgary to Ottawa (28,700 Aeroplan points and $92.00 CDN)
Mary and her siblings watched both their parents die from cancer.  Now that she's been diagnosed with stage 3 lung cancer herself, she knows what to expect.  She knows that her decline is coming and the end is imminent.  But for now, she's feeling healthy enough to fly and socialize and so she asked Give A Mile to send her from Calgary to Ottawa in June where her extended family has some celebrations planned including a family reunion, a baby shower, and a wedding.  Mary hasn't seen her siblings in person since her mother's funeral more than a decade ago.
Mary is the only member of her family that lives out west and recognizes that taking this trip now means that when the time comes, she may be alone but she told Give A Mile that she'd rather see everyone when she is still healthy enough to enjoy them and she wants people to remember her as healthy as she seems at this stage. 
Give A Mile approved Mary's request to fly to visit her family in Ontario. If you believe in the transformative power of a family celebration, please help us help more people like Mary by donating points, miles, or money here.