Regina, SK to Halifax, NS – 89,967 Aeroplan Points
Unfortunately, on a single family income, a flight ticket was out of reach for him.Not all families are biologically related and a step-parent can become someone that means a lot to you. For Steven, his stepfather means everything to him and when he found out that his stepfather only had weeks to live, he knew he needed to be there. His stepfather's social worker suggested Steven apply to Give A Mile.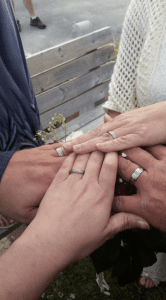 Steven wrote: "My stepfather has been a key part of my life since I was 5 years old. He has been there through thick and thin for my mother and us kids all these years…so many fond
memories of walks on beaches and exploring run down abandoned houses, collecting bottles, jars and Coca-Cola, anything."
This family was so close that when Steven married his wife they got wedding bands that matched those of his mum and stepdad.
After meeting the criteria, Give A Mile was able to gift Steven a flight of compassion so he could say goodbye to his stepfather.
Steven wrote back: "Thank you so much for everything during these difficult times."