Flight story July 10th, 2023
Fort St. John to Vancouver – 81,400 Aeroplan miles and $78.22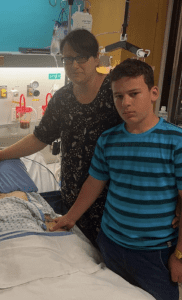 At Give A Mile we support families with flights at an incredibly difficult time in their lives.
When the Social Worker from the ICU at St. Paul's Hospital in Vancouver reached out to us and shared the story of her patient, we knew that we needed to make these flights happen.
Her patient was a Ukrainian gentleman who was sadly dying of brain cancer and now had a poor prognosis.   While the outcome for him couldn't be changed, we were able to fly his wife and young son to be with him when he died.   
The family shared this with us:  "Thank you so much for helping us and making this possible. God Bless you!!"
The power of reuniting families at the bedside is immeasurable but we know that without our generous donors we would not be able to make these flights happen.