Houston, TX to Seattle, WA – 155,500 United MileagePlus Miles & $11.20 USD
We are never prepared when it comes to saying goodbye to our mothers. For Andrea, she wasn't prepared to say goodbye so soon. When her mother fell ill in another country, they did everything to get her back to the US, but unfortunately, her mother was put onto life support on her way back. Unable to afford a flight ticket to reunite with her mother to say her final goodbye, Andrea reached out to Give a Mile.
She wrote: "My Mother is my idol, my best friend and the most brilliant person I know. She has a Masters in Nursing and has dedicated her entire life to caring for others. She gave me a love of reading, education, the ability to see how to push forward, she cried with me, laughed with me."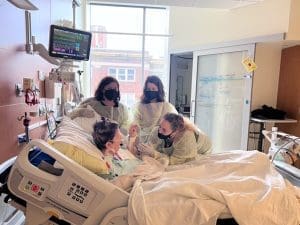 After meeting the criteria for a flight, Andrea was gifted a flight of compassion and was able to be by her mother's side holding her hand one last time.
Andrea wrote back: "I feel so blessed and without words right now. I have a year and 7 months left to obtain my BSN and hope that with that I can touch people as you all have my Mother and I."