June 3, 2022  – 120,000 United miles and $20 USD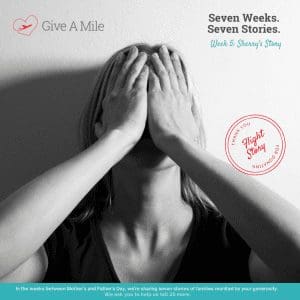 Sherry and her son were living in transitional housing as survivors of domestic abuse when they learned that Sherry's mother had been given only one week left to live.  Living in a different State, with no income, Sherry was understandably distraught at the idea of suddenly losing her mom, who she describes as her 'rock and best friend.' She saw this as just one more short straw her life had dealt her. 
Luckily, Sherry's social worker had recently learned about Give A Mile and reached out to see if this situation is something our program would support. Sherry's application was submitted and approved within 24 hours and she and her son were on a flight to be with mom/grandmother the next day. 
Sherry's flight was approved on her birthday and she sobbed when she was told that thanks to the generosity of Give A Mile's donors, she'd be able to be with her mom until her final moments. It felt like, finally, things might go her way.
 The small family is together now, sharing important conversations, holding hands, and making memories that will live on.
If you can help us bring hope to more families like Sherry's, please donate today.  Even $10 or 1,000 miles goes a long way to help.