May 27, 2022 — Indianapolis to Orlando (74,000 United Miles and $22 USD)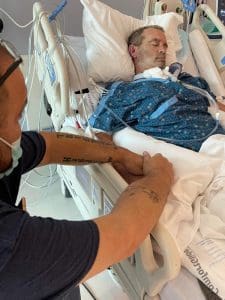 To say that William and Heather have endured a year of hardships would be an understatement. In the past year, William has had a heart attack and a broken ankle; he and Heather have each lost their mothers, and Heather has become the sole financial supporter for their family of 8. And then recently William's only living relative, his brother, was admitted to ICU with an unknown condition and unknown outcome. 
Living thousands of miles away, William knew that without a miracle, he would never be able to afford to be at his brother's bedside. But then he heard about Give A Mile on TikTok of all places and immediately applied.  Give A Mile's flight review committee read William and Heather's story and wanted to help turn things around for them. They quickly approved the couple's flight and booked them on a flight to Florida. 
William and Heather spent 5 days at William's brother's bedside and took an active part in the decision-making relating to his ongoing care.  Sadly, he has made very little progress and William fears that his Give A Mile-sponsored visit will likely be the last time he will see his brother alive but is grateful to Give A Mile's donors for the hours he was able to spend with him.
Can you help us bring hope to a family down on their luck and has nowhere else to turn?  Please donate your miles, points, or cash.