Halifax, NS to Rwanda – 320,602 Scene+
When someone in your community falls ill, you rally around to help them out. That's what Patrick's community did for him. He came to Canada 12 years ago and when he fell ill, colleagues and friends organized a fundraiser for him as he was unable to work.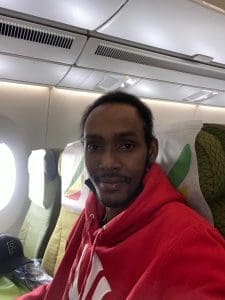 Patrick had one final wish, to return home to Rwanda to see his family and homeland. This motivated his social worker to apply to Give A Mile on Patrick's behalf to see if his final wish could be granted.
He is also a survivor of the Rwandan Genocide. 
After meeting the criteria, Give A Mile was able to fulfill Patrick's final wish. He will be surrounded by his sister, nieces, nephews, cousins, and friends for one final Christmas before returning to Canada to be with his son and receive palliative care.
When our Flight Coordinator reached out to Patrick to let him know his flight was approved, she shared: "He was laughing and so excited when I told him it was confirmed and booked."
Could you help us fulfill final wishes to reunite families? Consider donating your unused miles or become a Flight Hero and challenge your friends and family to help fulfill a flight.