Japan to Calgary, AB 
When we move overseas for work, we never think it is the last time we will see our loved ones. For Georgia, her dad's last words at the airport spoke truth long before his diagnosis.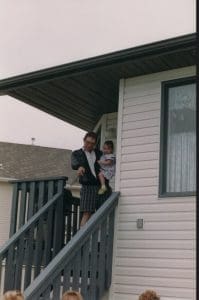 "When flying out to Japan he looked at me and said 'I'll never see you again' of course I replied saying 'Of course you will I'll be back I promise' and he replied back 'but I won't be here'. This was way before we got his diagnosis, yet the last words I heard from him ring out like a cruel joke from the universe. I'm very thankful that he was able to see me off at the airport that day because usually he works and my sister would step in to help, but that day he took me. 
After being in Japan for a bit, Georgia found out that her dad was diagnosed with Stage 4 Lung Cancer that had metastasized to his bones and has taken a turn for the worse. She reached out to Give a Mile after hearing about our program from her dad's hospice social worker.
Give a Mile was able to gift a flight of compassion for Georgia to reunite with her father one last time. This flight was provided by our amazing friends at Points!
Do you have unused Aeroplan or United miles? Consider donating them and help reunite another family this holiday season.