April 20, 2022 — Vancouver, Canada to Goa, India
117,000 points & $1000.00 CDN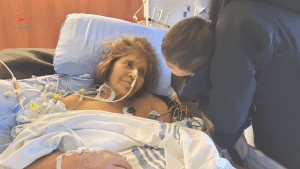 After the death of her husband, Rosetta came to Canada from India to visit her only child and his new family.  She was a healthy senior, who set daily targets to get 10,000 steps per day walking her grandchild around the Vancouver suburb where her son lived.  But in March of this year, a gall bladder stone got loose, blocked her bile duct, and sent her into septic shock.  The blood infection made her kidneys fail and she spent 10 days in ICU, a visit that consumed the $100,000 in travel insurance that she had and resulted in a hospital bill of more than twice that amount.  Rosetta must now live a life of renal dialysis and without it she will die but the out-of-country medical costs continue to mount and her son's income cannot support her medical needs and his family.  A return to India is the only option. "
Give A Mile has approved a flight for Rosetta and her son to travel from Vancouver to Goa, India. Her son will travel as her caregiver and will ensure she is receiving the treatment that will keep her alive before returning to Canada.  It's a bittersweet trip for Alex, knowing that his mom will be taken care of but that his small family will likely be separated for good.
"Your organization has helped us in our time of need. I will always remember this kindness,"said Alex.
Give A Mile is only able to help people like Rosetta and her family thanks to your funding.  Please donate your airline miles, or loyalty points here.