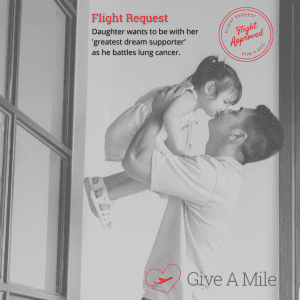 Victoria, BC to Calgary, AB – 27,500 miles required
Jennifer* is a full-time student of Chinese Medicine studying thousands of miles from her family.  Her father, a Chinese immigrant who came to Canada nearly 40 years ago, has been a kind and patient person who Jennifer describes as her "greatest dream supporter."
In her own words, "When I was in elementary school, I remember my dad working double shifts at a teppanyaki steakhouse and on his only break from work,  he would come and pick me up from school to drive me home. Instead of taking the bus, we spent the limited time we had together in the car listening to 'The Beatles'. We didn't have enough money to go away on vacation for Spring Break or to Disneyland but what we lacked in funds for grandiose trips he always made up for with his love, in his care, and showing up for me.  Now at almost 33 years of age, I still call my dad regularly (these days, daily) to ask him what his favourite song is or to ask him for tips on how to cook his lemongrass pork loin recipe."
Since learning about her dad's lung cancer diagnosis, Jennifer longs to be next to him while he undergoes this next part of his journey. 
"My dad has been there for me through the tough miles I've had to walk and I can only begin to return the love he's given me my whole life."
Help Give A Mile help Jennifer and people like her who want to create moments and make memories that will live on.  You can help by donating miles and/or dollars here https://giveamile.org/donate/
Can't donate right now? That's ok.  Just like or share our posts on social media to help us spread the word.
*names have been changed to protect the anonymity of our flight recipients, but the story is their own.