The opening line of a hand-written application for a Give A Mile flight of compassion began: "My name is Loida, the mother of a beautiful 10-year-old girl", highlighting the importance of family. She went on to detail her Stage 4 breast cancer which had metastasized to her bones, liver and lung leading Loida's oncologist to say that time was running out. Loida went on to describe that her greatest wish was for she and her daughter Sorina to travel to the Philippines "to finally be brave enough to say my goodbyes" and share a final Christmas with immediate family there.
May the Lord bless you all… a Thank You will never be enough.
– Loida
Loida and Sorina traveled to spend Christmas with her family, in fact they stayed for six weeks creating lasting memories for everyone. Loida was in and out of hospital during her stay but got to visit a beautiful natural hot spring site (in photo), and soak in the soothing waters.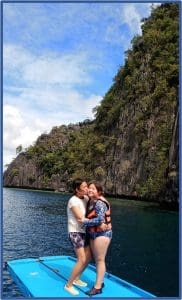 This flight of compassion was made possible through the annual Give A Mile Holiday Flight Campaign, which has kicked off again in 2021 and will run through November and December. In fact, Loida's and her daughter's flights were covered by Flight Heros. The Holiday Campaign 2021 goal is to send out 40 flights during this holiday period; 20 originating in Canada and 20 from the United States – plus 2 million reward miles and $5,000 raised in each country also. These flights are also made possible through the support of campaign sponsors like SCENE and Points Loyalty Solutions, the global leader in loyalty commerce.
Gifts of unused loyalty points (Aeroplan, Starwood, Marriott and AMEX Rewards, etc.), or monetary support, are contributed through the Give A Mile website's DONATE button. They can be directed to a specific flight story or to the general pool. All funds and points are used for the flights and related taxes/fees.
Please help us to facilitate more precious farewells and create lasting memories through your generous support of the Holiday Campaign 2021. And follow us on Facebook, Twitter, Instagram and YouTube to see events and flight of compassion stories. A 100% volunteer-driven organization, Give A Mile cannot work without the help of others. We want to award as many flights as possible and are grateful if you help us spread the word.