Flight story June 2nd, 2023
Calgary to Winnipeg – 48,000 Aeroplan Miles and $183.22
Diane is a cancer patient undergoing treatment to manage her incurable cancer.    Five years ago her young grandchildren moved from Calgary to Winnipeg and between Covid restrictions and her treatment protocols, she hasn't been able to see them since.    Her grandchildren are not currently able to visit Calgary.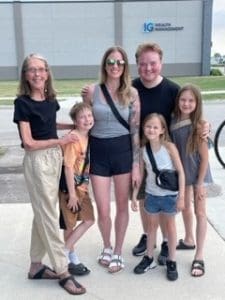 Diane said:  "Seeing my Grandchildren would bring such joy to my life – this may be the last visit I can make.  I cry so often and am sad that I can't see them.  I see them as often as I can over FaceTime but it's time for a real hug"
Diane needed her son Alex to travel with her as he is her primary caregiver and Give A Mile was happy to grant them two flights to make their trip happen.
When we approved the flights Diane was deeply grateful:  "Thank you seems not enough to convey my appreciation to the Give A Mile programme.  Thank you from the bottom of my heart, I am so grateful to be given this award. I am counting my sleeps already!!" 
Upon her return she shared this photo and her gratitude:  "I just wanted to let you know how very much I enjoyed my weekend in Winnipeg with my grandchildren!  It was absolutely the best time ever.  I also want to thank you once again from the bottom of my heart for arranging free flights for myself and my son. I am so appreciative of all that was done for me. 
Thanks to our generous donors for making these flights happen.