Atlanta, GA to Worcester, MA – (21,000 Delta SkyMiles and $5.60 USD)
As a single child, you become very close to your parents. Wendy and her mom have a very close relationship, but once her mom's health started to decline, Wendy did not want her to die alone. Not being able to afford a flight ticket, Wendy reached out to Give a Mile.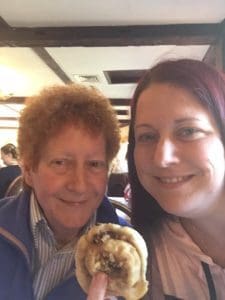 "My mothers only wish when she was diagnosed with dementia last November was to not be alone."
Give a Mile was able to provide Wendy with a flight of compassion so she could be by her mom's side during her final days and fulfill her last wish.
Thank you for the generous support of our donors. People like you are able to help us gift flights of compassion to those in need. Donate today.
This flight was provided by our amazing friends at the Crossing Group!
"On Oct 19th, less than a week since my family decided to begin Hospice, I got the call from my Mothers nurse saying there had been a dramatic chance overnight. Mom was letting us know that she was ready. Her nurse told me that if I wanted to say my goodbyes to book a flight as soon as possible as she knew that I lived in another state from my mother. A couple weeks prior, I discovered a wonder nurse named Julie on Tik Tok who documents the stages our loved ones go through at the very end of life. It really took the fear out of hospice with my Mom. On one of Julie's videos she talked about an amazing program called Give A Mile which offers free flights for family to be with their dying loved ones. Driving the 18 hours to be with my mother was not an option with such little time left. Unfortunately financially purchasing a flight home was out of reach. I anxiously and in tears looked up Give A Mile and completed the brief questionnaire to submit a request for a flight. They called me in a matter of minutes. Within 30 minutes they had booked me a flight. A huge weight was lifted knowing that I could fly home and be by my mothers side. I was blessed to spend the last hours of my mothers life holding her hand and listening to her favorite music. I thank God that Give A Mile made this even possible. I'm forever grateful. My Mother and I got the closure we both needed before she decided it was time to meet Jesus."